The Action is taking place at the Planeta.ru https://planeta.ru/campaigns/diminamechta2021
Background
Imagine a situation where one child has both severe illnesses and severe multiple developmental disabilities (TMDD). Unfortunately, most often they end up in special orphanages for disabled people, and when they stay in the family, the parents are always chained to the child, providing care and treatment, but they do not know how to teach the child the elementary things that parents usually teach – say the first words , brush your teeth, drink from a mug, etc. There are very few professionals who are able to provide regular assistance and develop vital skills. Therefore, you can see that at the age of 16, the child does not know how to sit and is fed from a bottle. Such children do not know how to play with toys, dress and put on shoes, wash, do not know how to explain what they want … There was nowhere to wait for help. This is what life for children with TMND looks like if they are provided with first-class care, but without their parents. It's 24/7
Our children have not only illnesses, they have DEVELOPMENTAL DISORDERS and this means that the usual teaching methods are not suitable for them.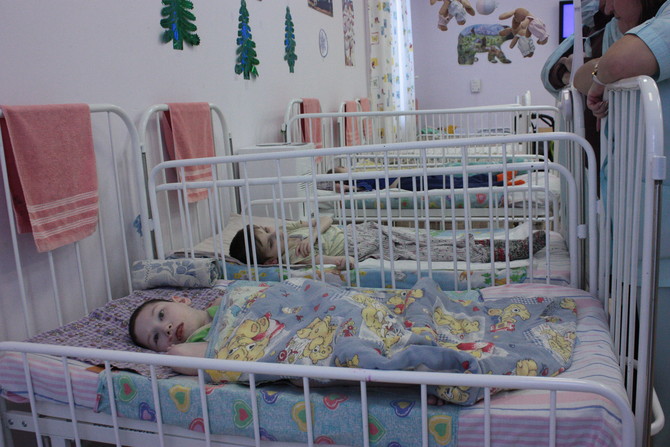 What we do

Diema's Dream Foundation successfully trains specialists from orphanages and family centers and creates teams of specialists using the unique Portage methodology. Now there are 15 Portage teams working in Russia in orphanages and centers in Moscow, Kostroma, Nizhny Novgorod, Pskov and Ryazan regions.
In the video of the project, you can see with your own eyes how new opportunities are born – children learn to stand and walk, and do a lot on their own – for the first time in their lives! Children who were previously doomed to social isolation and a dull existence will be able to live more fulfilling lives.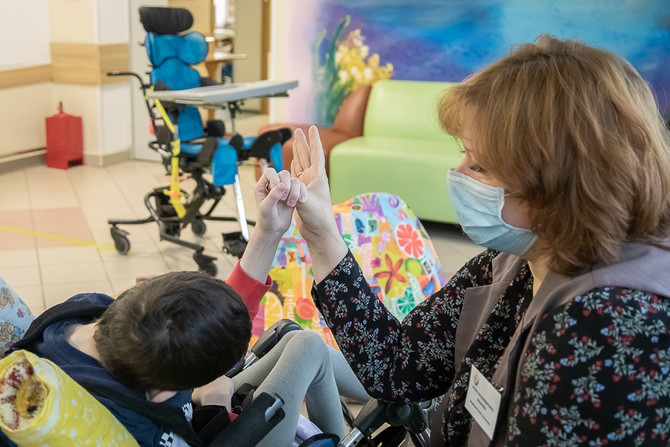 What is Portage method

Э
then a system of work with children with the most severe and multiple developmental disabilities, aimed at diagnosing skills and abilities, identifying the child's potential and successful development zones, and then – at practicing more than 600 vital skills in the field of:
– Baby skills
– Knowledge
– Speech and communication
– Movement
– Self-service
– Socialization
Uniqueness Portage
– used for decades in 22 countries of the world
– has been working in Russia for over 10 years
– exclusively teamwork of specialists
– the priority of family and parental involvement
– helps to achieve results in the most difficult cases
– an open system with the involvement of specialists of different profiles
– even parents themselves can conduct classes
– clear standards and principles of work of specialists
– worked out methodological materials – Initial profile, Activity cards, Activity tables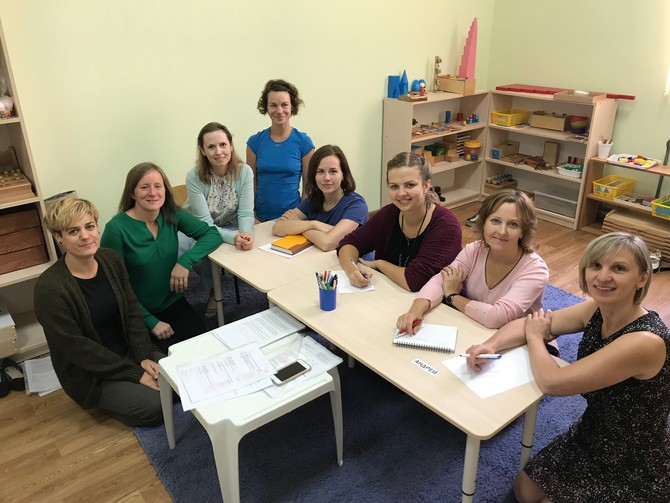 Thanks to your support
Thanks to the project on Planeta.ru, we plan to launch a new cycle of classes and another 104 children will receive help and will be able to walk independently, speak better, communicate, acquire new skills of cognition, self-service and socialization, and develop their abilities and potential. It is a great joy to help and see the result! These are our common victories! And it is very important to continue classes regularly so that the child does not lose the acquired skills.
The greatest achievement of joint work is the cases when, after a cycle of classes Portage, a child with TMNR is taken from the orphanage to the family! And the families of the children are constantly receiving support.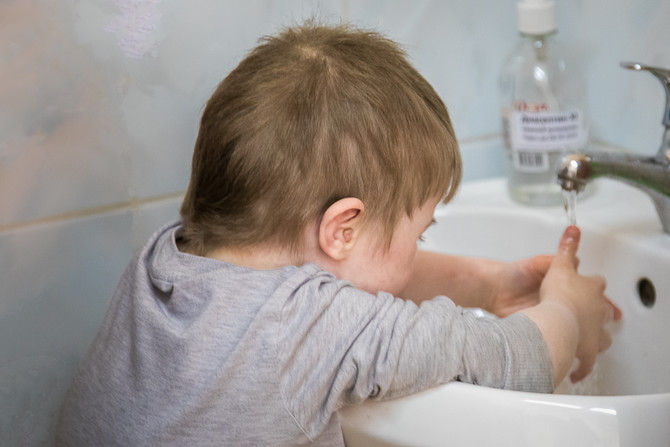 Why philanthropists' money is needed
So far, this work is not paid by the state. There are not enough specialists in the regions, one defectologist per 100 children in the institution's staff. How can he teach each child for at least 15 minutes? We involve specialists from other groups and departments of the institution in our work. All of them undergo special training and support from the Portage coach. As a result, the institution has not one defectologist, but a whole team ready to conduct correctional and developmental classes.
1 specialist Portage and 2-4 children assigned to him. Classes every day!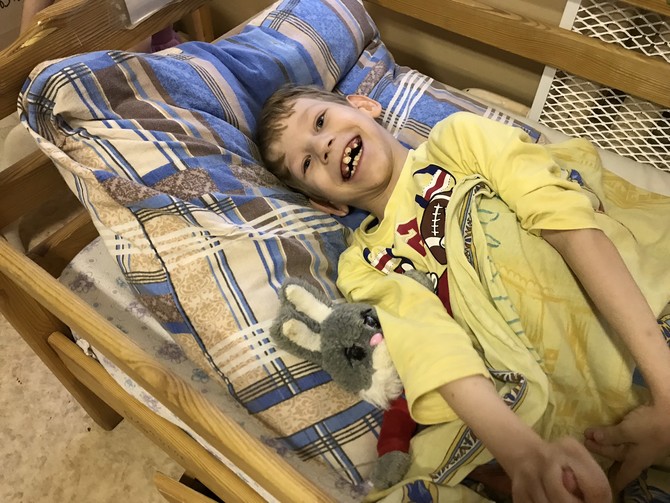 Action "Vital skills for children with SMDD"
In honor of the 15th anniversary of our Foundation, we are launching a fundraiser to support children with severe developmental disabilities. On their birthday, everyone is pleased to receive gifts. Your contribution is an excellent gift to the foundation and congratulations on the anniversary of charitable activity, but the most important thing is helping children again!
The action is supported by famous Russian artists who have created a unique
The collection of Easter eggs "Art for the sake of good".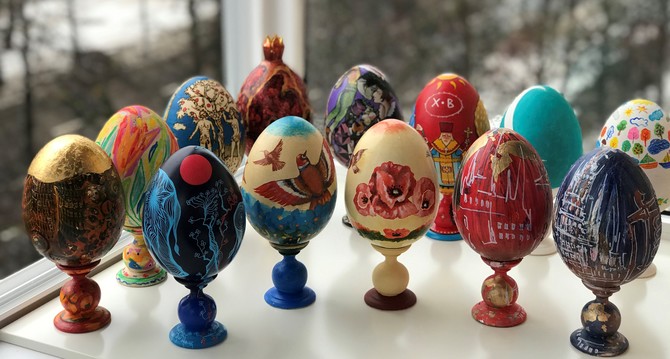 – 15 years of the Diema's Dream Foundation
– 15 exclusive Easter eggs
– 15,000 – the minimum cost of each work, because the works of our artists go at auctions with the support of Christies at a cost of $ 2,000.
Each egg provides activities for 3 children every day for a month.
Each Easter egg is an Easter gift with meaning and with the name of a famous artist. Because we want to take care of the Benefactors as well.
These are real works of art! The paintings of our artists are in museums and private collections around the world. And it is difficult to overestimate the importance of the collection. Each egg is unique – each is a single copy! Each participant of the action who made a generous contribution to our project on Planeta.ru can receive this original gift, as well as music discs and souvenirs in gratitude from the Diema's Dream Foundation.
By supporting the charitable project "Life Skills for Children with SMDD" on Planeta.Ru, from March 16 to May 3, 2021, you will help children with severe developmental disabilities take the first step towards the opportunity to live a full life! Take a step towards good! Help us!